Bus 9 and 11 are running a little behind this morning, but will complete their entire routes. Thank you for your patience.

The elementary, middle, and high school are working together on a food drive for Thanksgiving. The drive starts tomorrow and goes through Friday. We will have dress-up days along with the drive. Students can bring in the following nonperishable items: breakfast foods, instant mashed potatoes, stuffing mix, cornbread mix, mac and cheese, canned goods, and cash donations. Dress-up Days: Tomorrow - School Colors Tuesday - Hat Day Wednesday - Crazy Socks Thursday - Pajama Day Friday - Red, White and Blue All three principals have agreed to kiss a live pig at an assembly if their students bring in enough items for the drive!

We have recently completed a state of the art greenhouse expansion here at EW, and we are looking forward to producing food items we can share with our students during our meal service times during the school day.  The lettuce in the salad came straight from the greenhouse. We will integrate fresh vegetables from the greenhouse when it is possible for us to do so.  We wanted to give a big shout out to Mr. Todd Elgin and the EHS students who work in our greenhouses and bring us beautiful Poinsettias during the holiday season, beautiful bedding plants and flowers in the spring, and now fresh lettuce we can use when available to us to feed our very own students.  EW students producing food for EW students!  We are so PROUD of our staff and students!!! Also, thank you to Aramark and our food service employees for dishing up a beautiful salad creation for our students.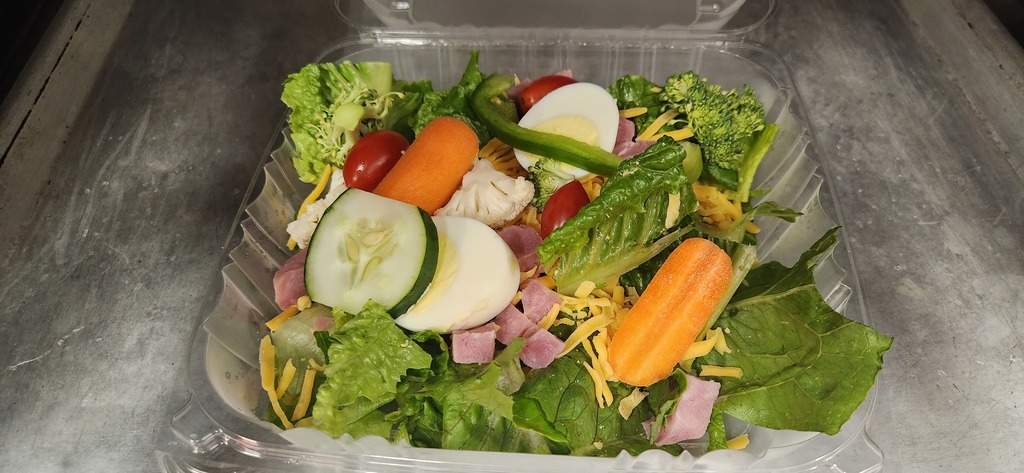 Parents should have received an email to register students for SchoolCare. This is a new program our nursing team is using to manage student medical information and aid in communication with parents. Please contact your school nurse with questions and concerns.

Congratulations to our newly appointed Interim Superintendent, Rebecca Jones! She is pictured below with her family and retiring Superintendent, Dennis Stockdale.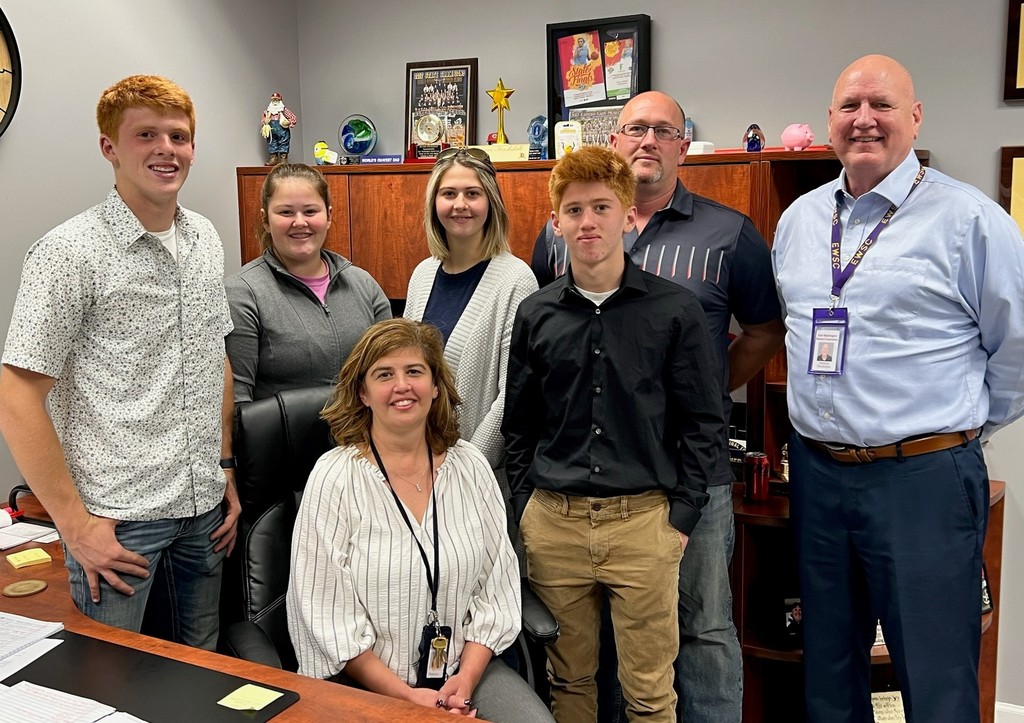 East Washington School Corporation is now accepting applications for holiday assistance. If you have children enrolled in our corporation and could use help with food and gifts this holiday season, please use the following link to fill out the application. The deadline to submit an application is 11/4/22. Only one application should be submitted per household/family. If you're application is approved, you will hear from a staff member by 11/9/22.
https://forms.gle/ineQFbz5YRBoheti7
If you're interesting in helping with our holiday assistance program, please contact the middle school office. Thank you!

Upcoming EWSC Immunization Clinic for students! Please contact the school nurse for questions or concerns.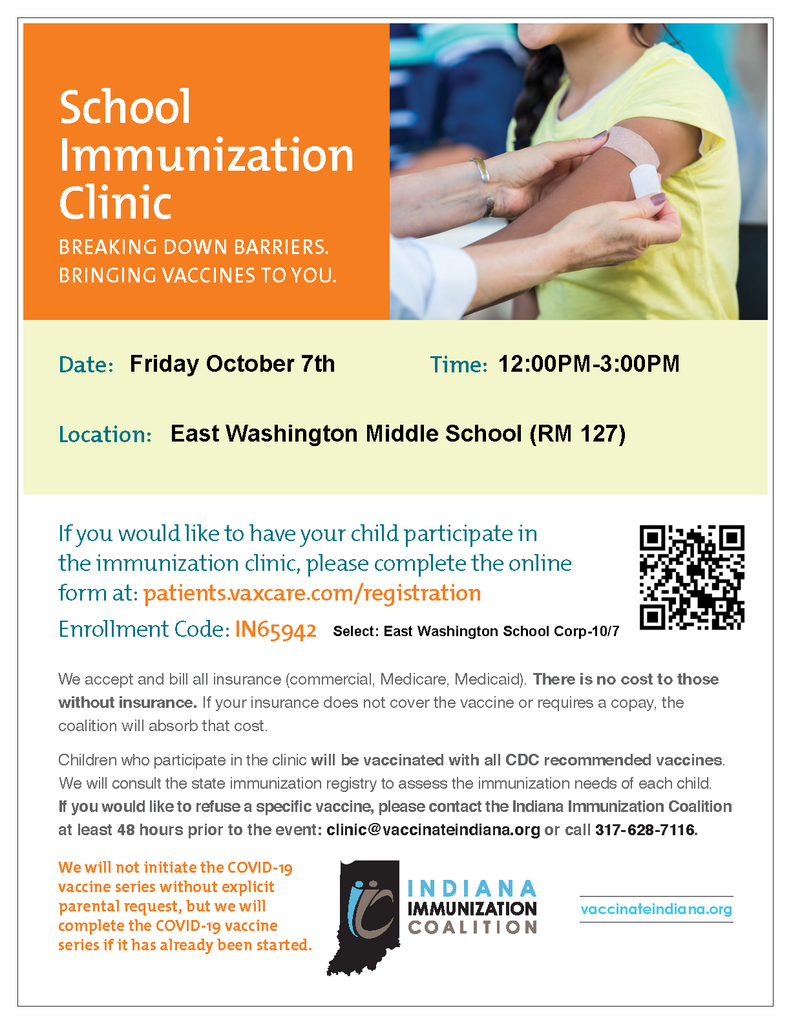 Road work is once again taking place on 335. Buses 1, 5, 16, & 21 are working through it. They will be a little later than normal.

The lockdown drill has ended. This was only a drill.

EWSC is conducting a lockdown drill. This is only a drill.

EW Families: Chip & Seal is once again taking place on 335 today, Wednesay, August 31, 2022. Buses 1, 5, 9, 16, & 21 may get delayed during the pm run due to this construction. Please be patient as we work with road crews and traffic to get students home as safely and quickly as possible. Thank you

Families of EWSC. We wanted to let you know that there is road work being done at this time on IN 335 (chip and seal.) Buses are working through the traffic to get students home as quickly as we can. Thank you for your patience and understanding.

P-EBT Announcement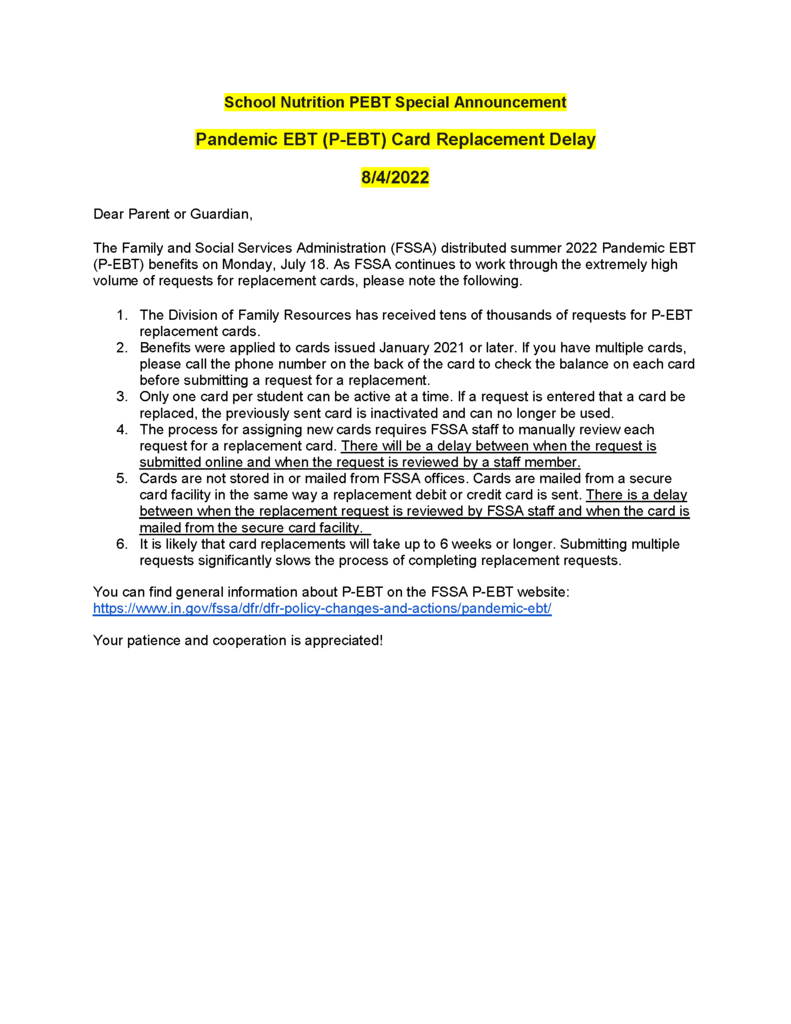 22-23 Food Service Update!!

July 2022 Summer Food Service Menu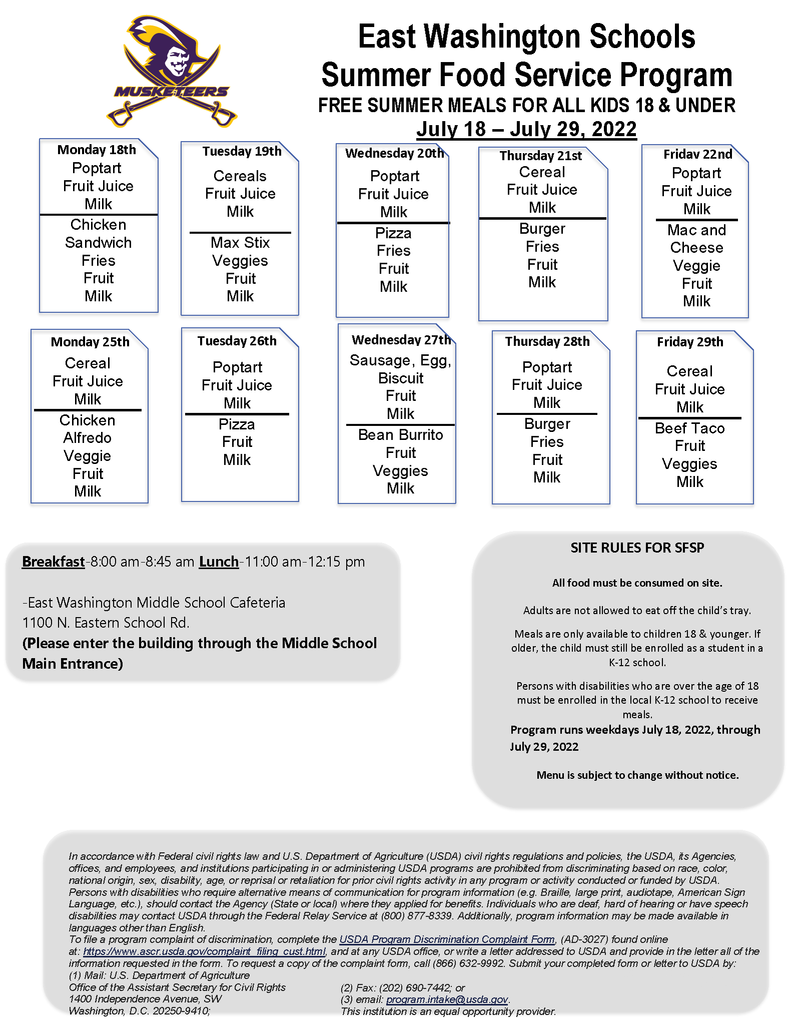 Notice of Cancellation of Salem Route (Bus 112) effective for 2022/2023 school year

2022 HS/MS Summer School Transportation Schedule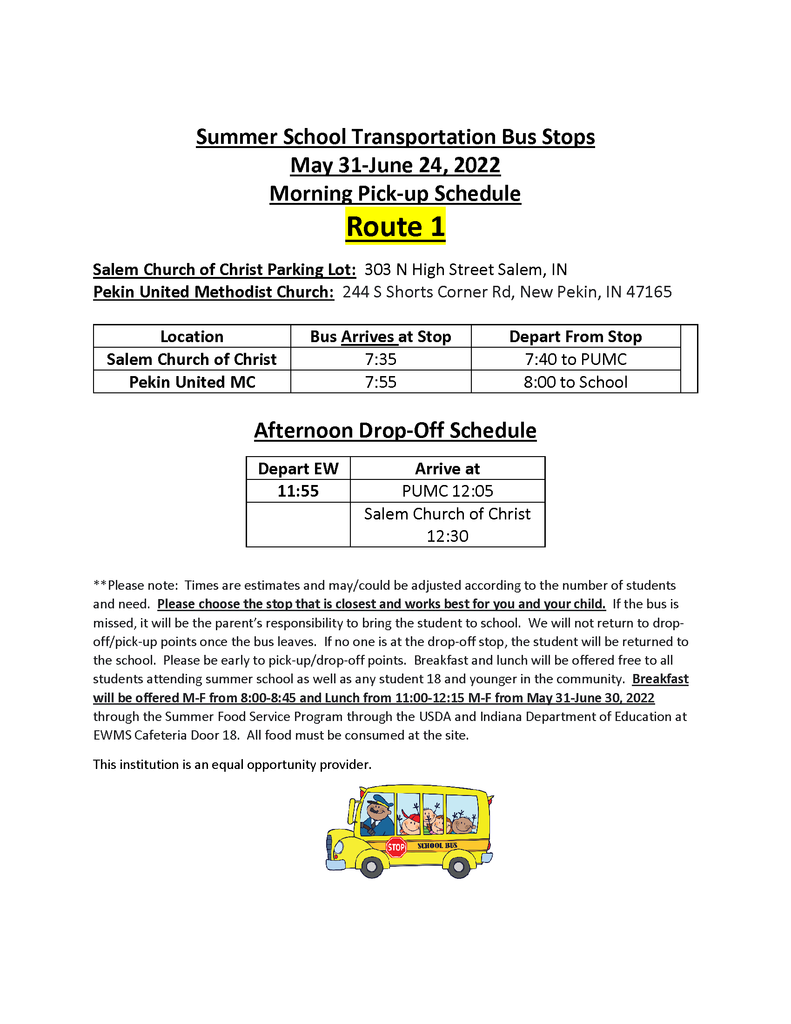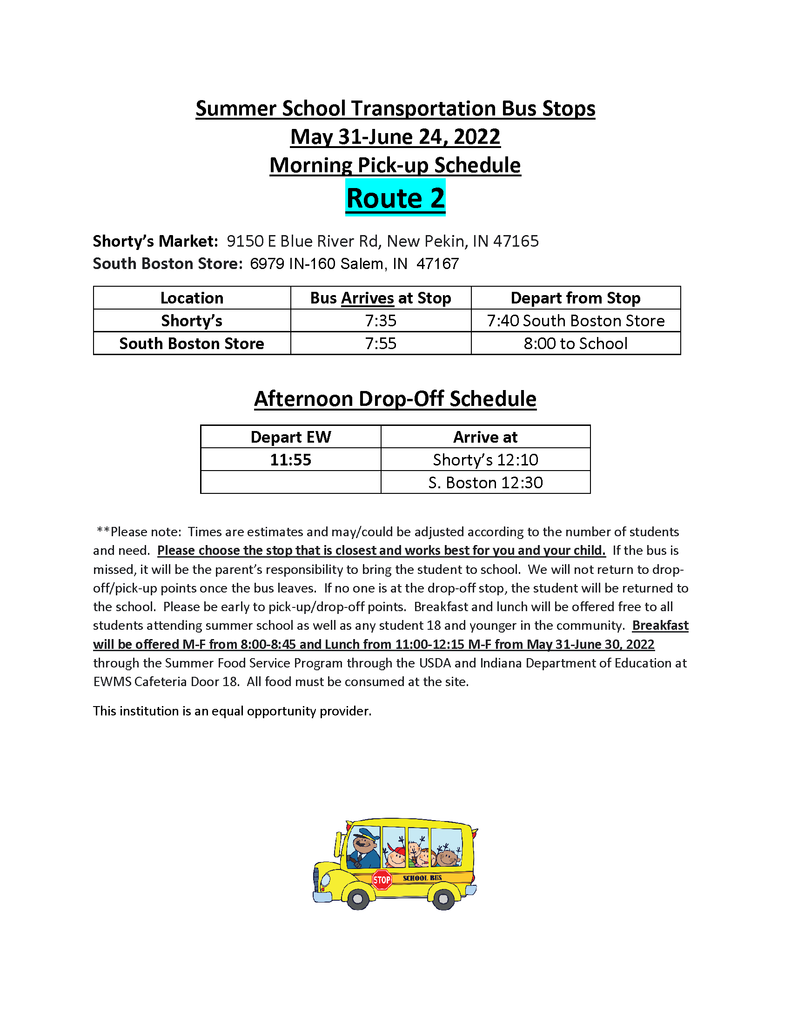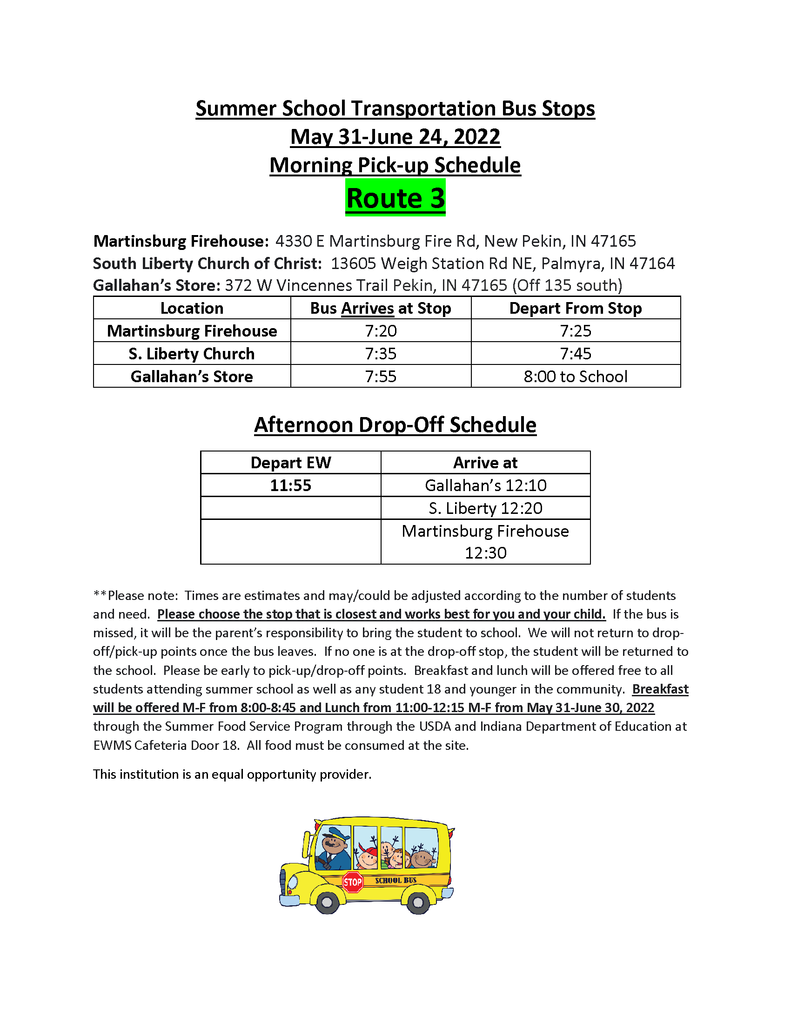 East Washington's Bus 10 is running behind this morning due to a tree being across the road. She will run her entire route. Thank you for your patience.

Due to the school closure on August 16, 2021 related to a water issue, the last student day for East Washington School Corporation will now be May 25, 2022.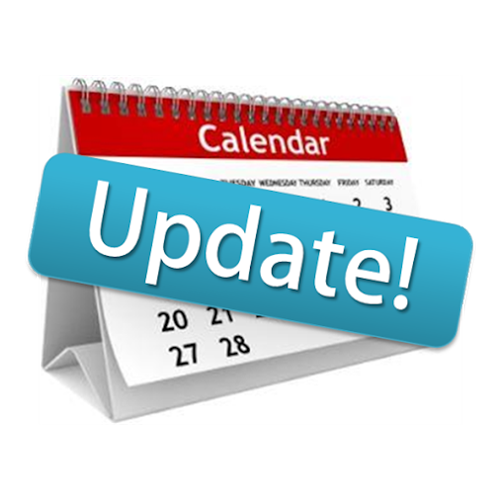 Due to black ice on the roads in the northern areas of our district, East Washington School Corporation will move to e-learning today, Thursday, February 24, 2022. Assignments will be posted by 9:00 am. Prosser students will not go today.