Dear EW Families, We wanted to share some information about a new set of safety protocols we are implementing this year for any emergency response situations that might arise. We have partnered with the I Love U Guys Foundation (
https://iloveuguys.org/
) on its Standard Response for emergency protocols. We want to make sure staff and students get information quickly and precisely in the event of an emergency. Please know, we currently have procedures in place, but have found this method to be much better in making sure communication is crystal clear, and we think it will better serve our staff and students much better when communicating. I have attached the five pictures we have started having conversations about with your children. The pictures and brief descriptions are being shared by staff with students, so we all have the same common language. Posters are posted in all classrooms. The best way to manage an emergency situation and make sure everyone remains safe is to communicate in a clear and concise language. We will share more information as we continue rolling out this new standard protocol, but in case your child mentions these pictures and shares the instructions they have heard at school, we wanted you to be aware that this is being implemented and students are receiving instruction on what to do in each situation. We would also highly encourage you to use the attached poster to talk with your child about why these protocols are sometimes necessary to keep us all safe and have them explain what they already know. Safety is our top priority, and we want families to know we are always working to keep everyone safe. Respectfully, Greg Hopkins, EWSC Assistant to the Superintendent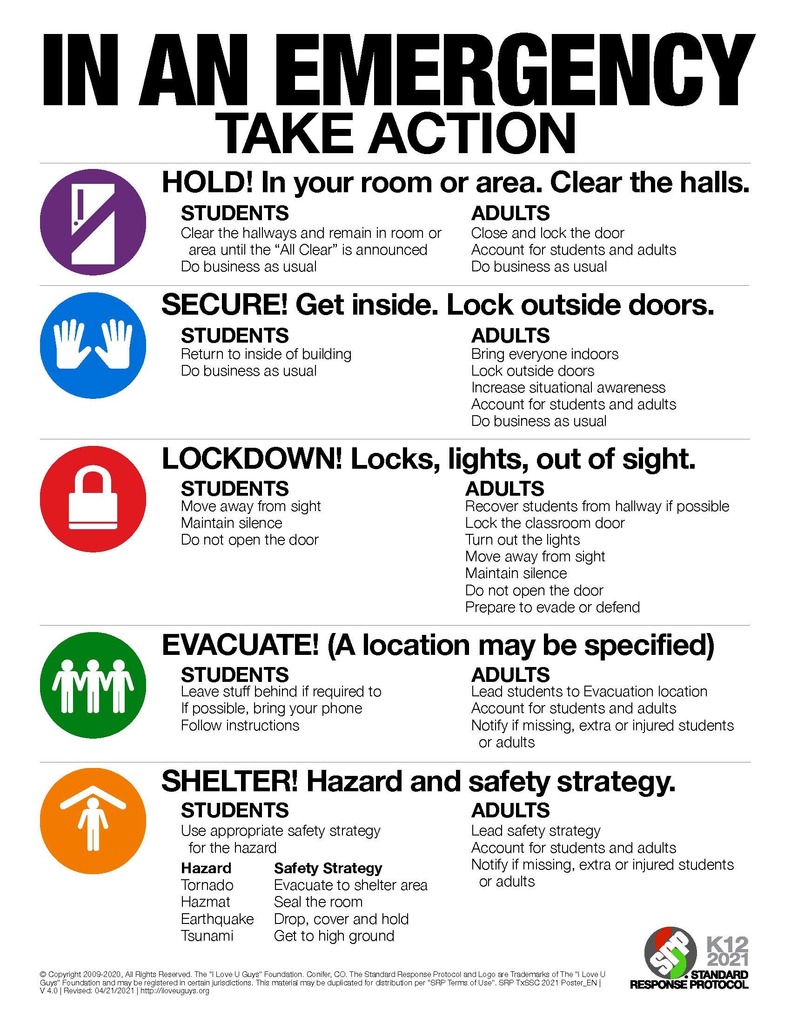 East Washington buses and student drivers have been released at this time.

Due to immediate weather concerns, East Washington School Corp will be holding all students until approximately 3:30 PM today (3/3/23). A message will be sent when student drivers and buses have been released. Thank you for your patience and understanding.

East Washington recently had a lockdown drill implementing the new I Love U Guy's protocol last week. Students and staff did a fantastic job. Pictured in the picture are members of the Washington County Sheriff's Department, Pekin's Town Marshals, EW SRO's, and EW administration. Thank you to all law enforcement that supported us with this drill.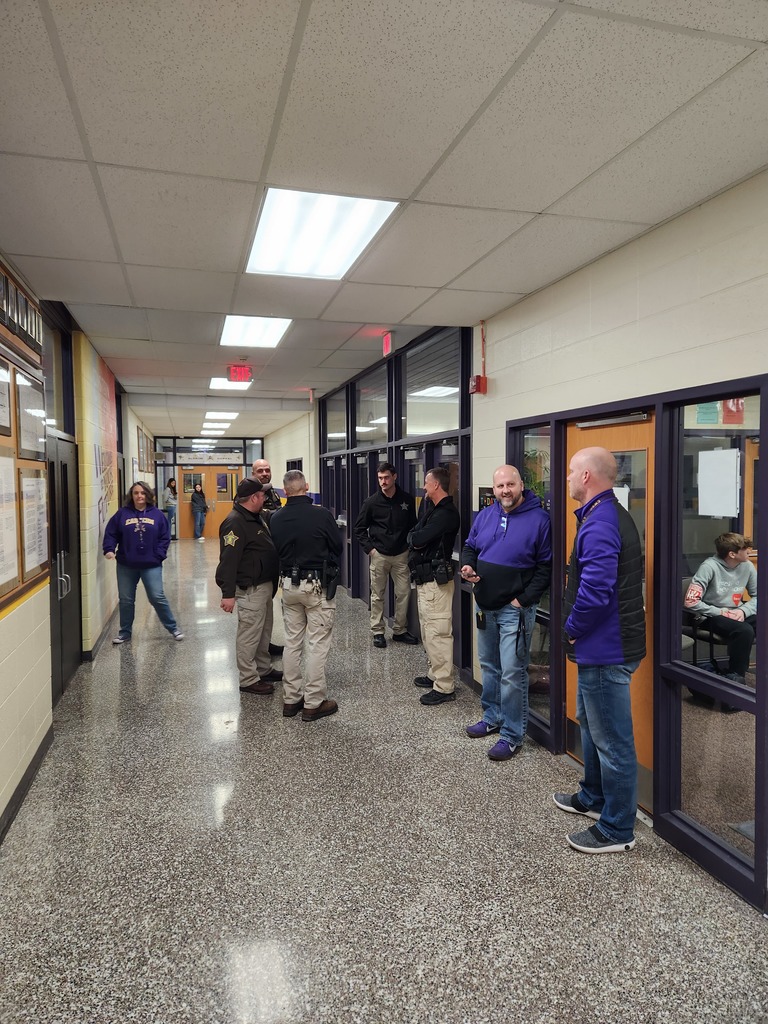 East Washington School Corporation will be operating on a 2 hour delay tomorrow, Wednesday, February 1, 2023. There will be no morning Prosser.
Due to inclement weather, East Washington School Corporation will be closed today, Tuesday, January 31, 2023. This will be an e-learning day for all students. Prosser students will not go today.

East Washington Bus Number 5 has been delayed this morning (1/27/23). The entire route will be ran but will be later than normal. We apologize for the delay and appreciate your patience.

East Washington School Corporation will be operating on a 2 hour delay today, Thursday, January 26, 2023. There will be no morning Prosser.

Due to inclement weather, East Washington School Corporation will be closed today, Wednesday, January 25, 2023. This will be an e-learning day for all students. Prosser students will not go today.

East Washington School Corporation has completed the annual Indiana State School Bus Inspection process for the year.  All buses passed with flying colors.  We want to thank all our transportation staff for an excellent job in preparing for inspection and being the integral part of maintaining safe school buses each day for all our students.  Thank you to everyone.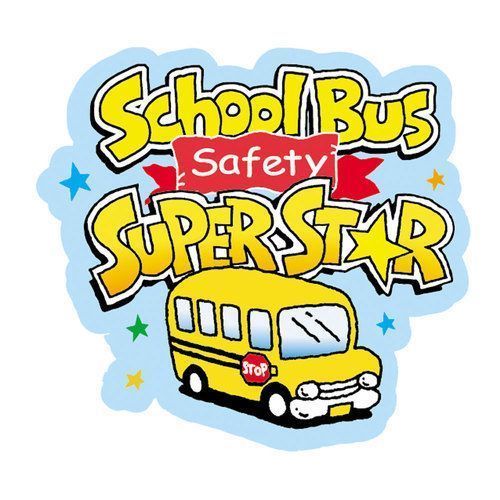 East Washington will be implementing a new crisis Standard Response Protocol this year using the program established through the I Love U Guys Foundation.  I Love U Guys is a method used to respond to a crisis situation. It also has a re-unification component for reuniting students and families at the end of the crisis situation .  It is designed to get students to safety should there be an event and return them safely to their families after the event. This program is used by over 30,000 schools, districts, departments, agencies, organizations, and communities around the world.  The foundation bases its program on research-based best practices of school administrators, psychologists, public space safety experts, families, and first responders.  On January 4, 2023, Mr. Tanner Fitch, a presenter for I Love U Guys spent the day at East Washington training staff on this protocol and how to implement the procedures.  The school plans to implement the practices throughout the coming months. EW strives to keep staff and students safe each and every day. If you would like to learn more about this, feel free to go to the website. iloveuguys.org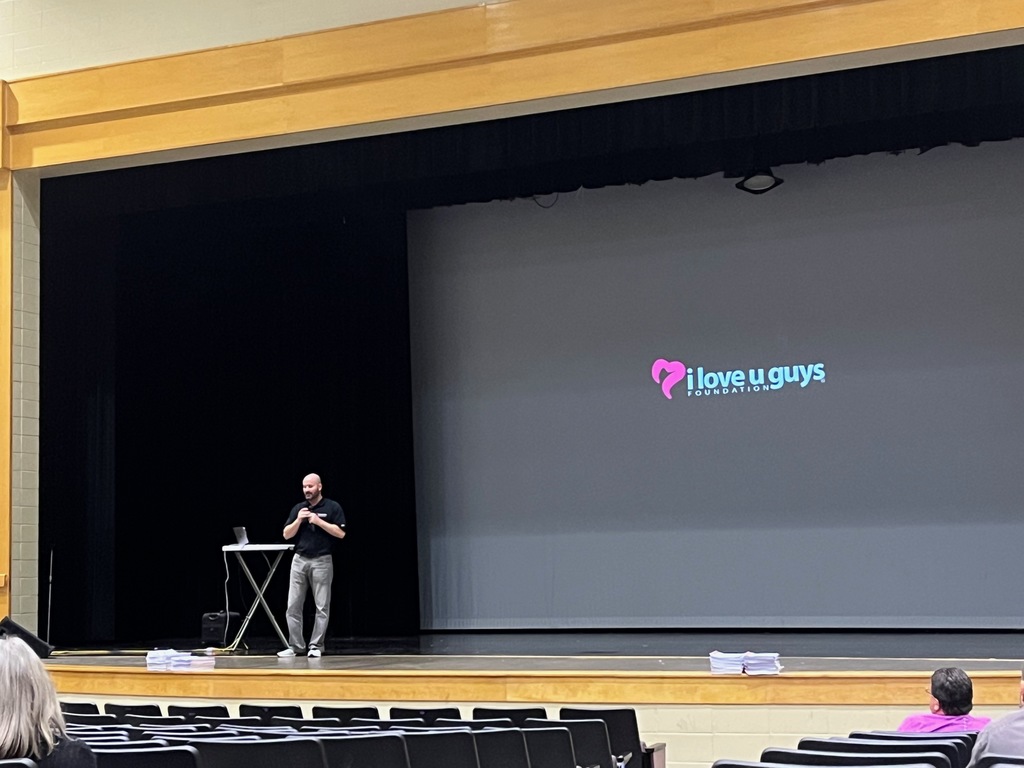 East Washington Bus 5 is running about 15 minutes behind this morning. It is currently on the road and will run the entire route. We are sorry for the delay.

Bus 9 and 11 are running a little behind this morning, but will complete their entire routes. Thank you for your patience.

The elementary, middle, and high school are working together on a food drive for Thanksgiving. The drive starts tomorrow and goes through Friday. We will have dress-up days along with the drive. Students can bring in the following nonperishable items: breakfast foods, instant mashed potatoes, stuffing mix, cornbread mix, mac and cheese, canned goods, and cash donations. Dress-up Days: Tomorrow - School Colors Tuesday - Hat Day Wednesday - Crazy Socks Thursday - Pajama Day Friday - Red, White and Blue All three principals have agreed to kiss a live pig at an assembly if their students bring in enough items for the drive!

We have recently completed a state of the art greenhouse expansion here at EW, and we are looking forward to producing food items we can share with our students during our meal service times during the school day.  The lettuce in the salad came straight from the greenhouse. We will integrate fresh vegetables from the greenhouse when it is possible for us to do so.  We wanted to give a big shout out to Mr. Todd Elgin and the EHS students who work in our greenhouses and bring us beautiful Poinsettias during the holiday season, beautiful bedding plants and flowers in the spring, and now fresh lettuce we can use when available to us to feed our very own students.  EW students producing food for EW students!  We are so PROUD of our staff and students!!! Also, thank you to Aramark and our food service employees for dishing up a beautiful salad creation for our students.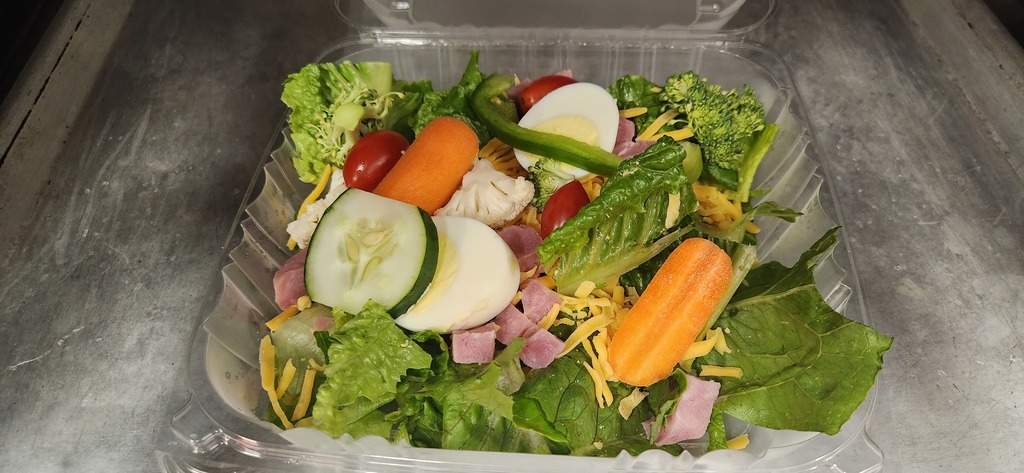 Parents should have received an email to register students for SchoolCare. This is a new program our nursing team is using to manage student medical information and aid in communication with parents. Please contact your school nurse with questions and concerns.

Congratulations to our newly appointed Interim Superintendent, Rebecca Jones! She is pictured below with her family and retiring Superintendent, Dennis Stockdale.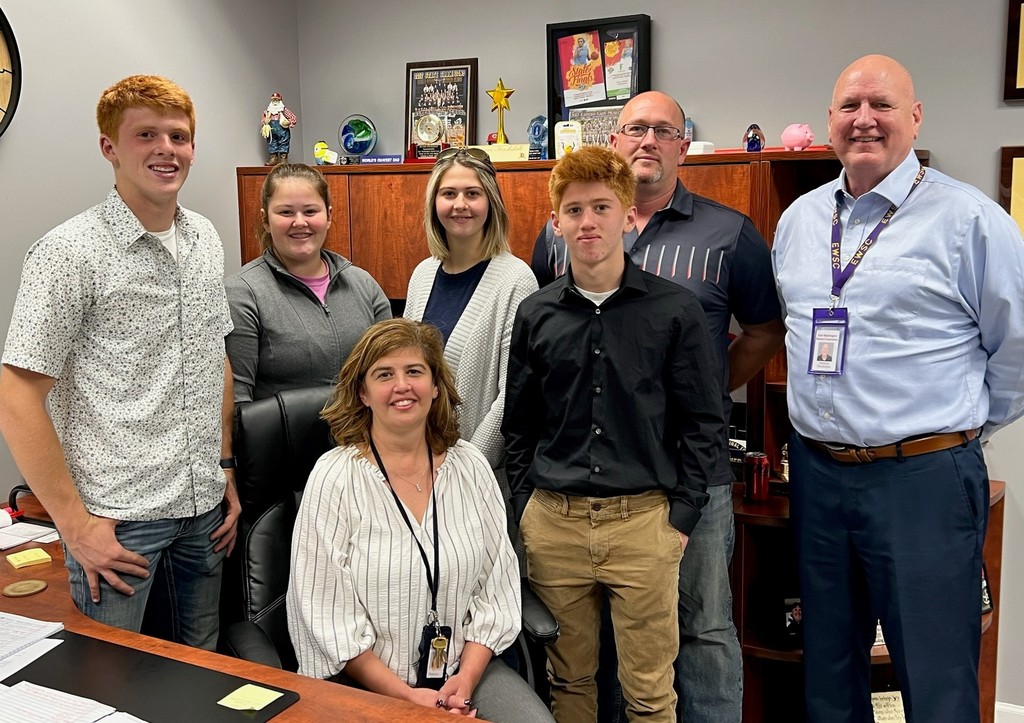 East Washington School Corporation is now accepting applications for holiday assistance. If you have children enrolled in our corporation and could use help with food and gifts this holiday season, please use the following link to fill out the application. The deadline to submit an application is 11/4/22. Only one application should be submitted per household/family. If you're application is approved, you will hear from a staff member by 11/9/22.
https://forms.gle/ineQFbz5YRBoheti7
If you're interesting in helping with our holiday assistance program, please contact the middle school office. Thank you!

Upcoming EWSC Immunization Clinic for students! Please contact the school nurse for questions or concerns.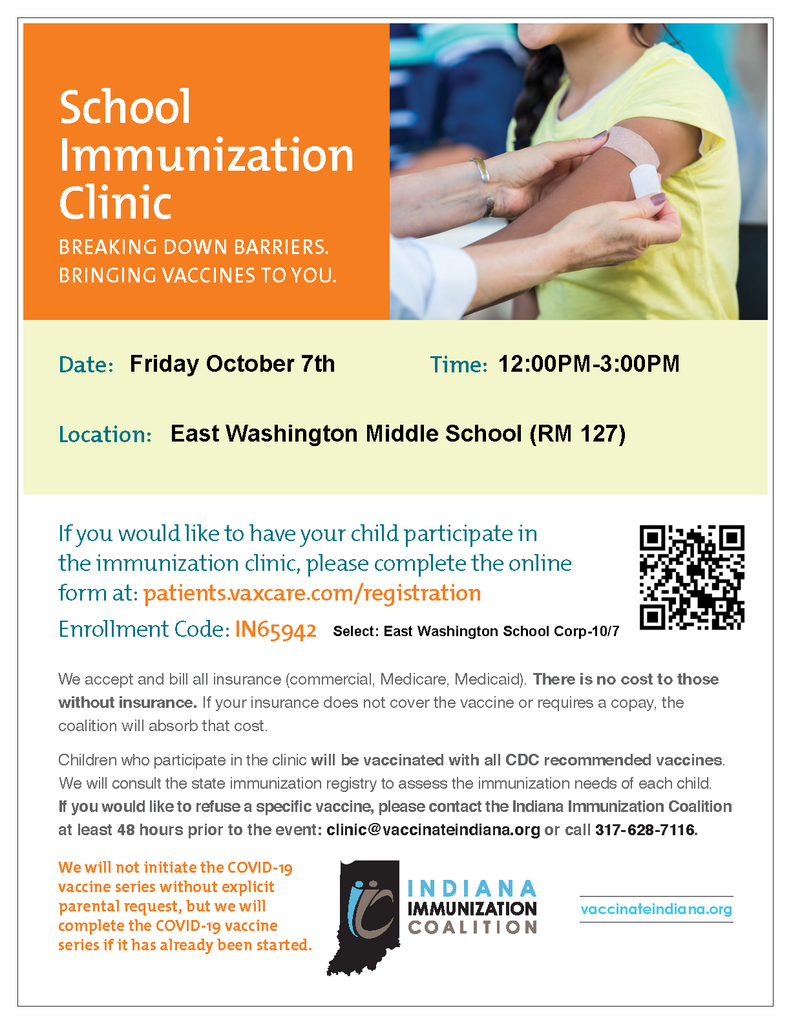 Road work is once again taking place on 335. Buses 1, 5, 16, & 21 are working through it. They will be a little later than normal.